---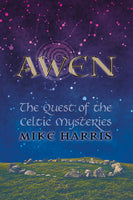 It was the Celtic bards who laid down the foundation of inner wisdom that has come down to us as Arthurian legend, passing their traditions to the Arthurian romancers of the 12th and 13th centuries. Thus the Celts provide an immediate bridge that leads to a very ancient world. Focusing on the Brythonic Celtic material and the "Taliesin" cult whose lineage preserved the mysteries through the Mabinogion and other texts, Awen: the Quest of the Celtic Mysteries reveals the sources of the British sacred tradition right back to the Neolithic and Bronze Ages, and, as some believe, further back still to even more ancient sources.
Awen is a Welsh word often translated as "inspiration". However, in its fullness it has a much deeper meaning, an irradiation of the soul from paradisal origins. In the context of the Celtic folk-soul it casts the paradisal pattern by which the people and the land were harmonised. Through the aligned symbolism of the goddess, the sacred king and the stars, a compelling picture is built of a thriving mystery tradition which marries the constellations to the landscape, exploring as an example the interwoven five-fold and seven-fold stellar geometry of Moel ty Uchaf stone circle in North Wales, and the stellar alignments on the landscape of Cadair Idris.
Mike Harris is a well-established authority on the Welsh mystery traditions, having lived for many years in the area of Gwynedd where the Mabinogi and Taliesin myths arose, where he developed an acute sense of the Celtic and pre-Celtic mystery cults and their relationship with the landscape. He is the author of Merlin's Chess, co-author of Polarity Magic, and founder of the Company of Avalon.
ISBN: 978-1-908011-36-7

266 pages

perfect-bound paperback: 229mm x 152mm

black and white text, with illustrations

published 30th November 2011