---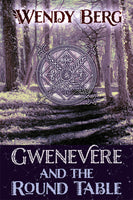 A follow up to her acclaimed Red Tree, White Tree, this book puts the faery elements of Arthurian legend into practice. It shows how the Round Table was an actual, practical system of magic, demonstrated by Gwenevere, who was its prime interpreter within the court of the Round Table. Central to the book is the concept of five Faery Kingdoms described in the legends, with which Gwenevere was closely associated: Lyonesse, Sorelois, Gorre and Oriande, about the central Grail kingdom of Listenois.
The book comprises a graded series of meditations, practical magical exercises, guided visualisations and a full ritual, which take the reader into each of the Faery kingdoms in turn, guided by Gwenevere, to experience the various challenges and gifts that they each represent. The fourth kingdom, Oriande, takes the reader into the Round Table of the Stars, an experiential journey through 12 constellations, which very neatly and remarkably demonstrates the continuing work of the Round Table into the future.
"A classic! Not only a lucid guide to faery dynamics in Arthurian and Grail legend but what to do about it, why, and how. A practical follow up to Wendy's mind-blowing Red Tree, White Tree. Highly recommended." – Gareth Knight
Wendy Berg has thirty years' experience of all aspects of the Western Mystery Tradition and is an authority on Egyptian, Celtic, Arthurian and Grail magical traditions. She blends a thorough knowledge and experience of the Qabalah and formal ritual magic with Christian Mysticism and modern Paganism. For many years she ran the Gareth Knight Group, the magical fraternity founded by Gareth Knight.
ISBN: 978-1-908011-47-3

190 pages

cover photo by Rebsie Fairholm

perfect-bound paperback: 229mm x 152mm

black and white text

published 31st January 2012