---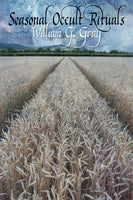 Seasonal rites are as old as the hills on which they were once practised by most of humanity. Periodically, in accordance with the natural tides of nature and the times indicated by the sun and moon, people came together to make dedicated representations of the things that bound them closest to the cosmic wheel of life.
In this classic work, William G. Gray demonstrates the continuing relevance of such practices in modern society. The actions of the rites are performed in a circle which symbolises the cosmic course, the magical practices consisting of music, movement, meditation and meaning. Detailed scripts are given for conducting the quarterly rites of Spring, Summer, Autumn and Winter, with complete texts of the chants, songs and invocations for each season.
Seasonal Occult Rituals was originally published in 1970, now available again for the first time in forty years.
"a welcome and valuable addition to the literature of Western occultism … clear and without pretentiousness." – Doreen Valiente
William G. Gray was a legendary magician and author of many influential books on occult practice. He met both Dion Fortune and Aleister Crowley during his childhood, and later worked with many other well known practitioners of magic and witchcraft including Gareth Knight, R.J. Stewart, Marian Green, Doreen Valiente, Pat Crowther and Robert Cochrane, in whose memory The Rollright Ritual was written. Born in Harrow in 1913, he lived for most of his life in Cheltenham, Gloucestershire, where he ran a chiropody practice. Bill Gray devoted his entire life to his "esoteric interests", and by questioning every detail of the established assumptions, found out what worked and what didn't. His books on Qabalah and ritual magic set out a fresh pathway along which most others have followed, often without realising that he originated much of what is taken for granted in magic and paganism today. He died in 1992.
ISBN: 978-1-908011-80-0

116 pages

cover photographs by Rebsie Fairholm

perfect-bound paperback: 229mm x 152mm

black and white text

published 31st August 2014