---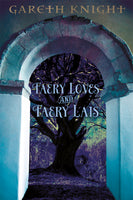 The Breton lai is a narrative poem, usually accompanied by music, that appeared in France about the middle of the 12th century, carried by travelling musicians and storytellers called jongleurs. What is important about them is that they contain a great deal of faery and supernatural lore deriving from Celtic myth, legend and folktale.
This collection of twelve tales focuses on faery lore in the lai tradition. Nine are taken from anonymous medieval jongleur sources; the other three are from the more courtly tales collected by Marie de France in the late 12th century. Gareth Knight, a scholar of medieval French as well as an established author on esoteric faery lore, provides a vivid and lively translation of each lai along with a commentary which takes a perspective both historic and esoteric.
Gareth Knight is one of the world's foremost authorities on ritual magic, the Western Mystery Tradition and Qabalistic symbolism. He trained in Dion Fortune's Society of the Inner Light, and has spent a lifetime rediscovering and teaching the principles of magic as a spiritual discipline and method of self-realisation. He has written around fifty books covering topics as diverse as Qabalah, history of magic, Arthurian legend, Rosicrucianism, Tarot, Faery, the Inklings (Tolkien, C.S.Lewis et al) and the Feminine Mysteries, as well as several practical books on ritual magic. The Gareth Knight Group, a magical fraternity which he founded in 1973, is now run by his daughter Rebsie. He has lectured worldwide and contributed extensively to Inner Light, the journal of the Society of the Inner Light, and Lyra, the Gareth Knight Group journal.
ISBN: 978-1-908011-48-0

130 pages

cover photos by Rebsie Fairholm

perfect-bound paperback: 229mm x 152mm

black and white text

published 1st May 2012