---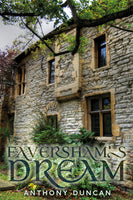 Whether by chance or providence, John Faversham comes across a volume of poems by a little known but enchanting 19th century poet. Well rooted in the logical empiricism of his day, John is astonished to learn that this poet was not only a previous tenant of the very house in which he lives but also the sharer of a very specific dream.
Thus opens a psychic porthole through which protagonist and reader are transported alike, to an alluring parallel story in the 16th century. The characters reach across time in the weaving of this magical parable, one that doesn't conform to easy dualisms or a prescribed sense of ethics. The scientific mind must meet with its own Reformation of sorts as histories are made to confront themselves in the mirror.
John Selby described the late Tony Duncan as "surprisingly open to the idea of inner spiritual directors" – an openness that was most readily explored through his fiction.
Anthony Duncan (1930-2003), the son of a Scots father and an English mother, was schooled for accountancy but soon discovered a dislike for office work. He joined the army and served in Germany and the Far East until resigning his commission as a thirty-year-old captain in order to follow his spiritual calling. He entered Chichester Theological College and was ordained into the Anglican church, first serving as a curate and later as parish priest to five parishes in both Gloucestershire and Northumberland. During that time he was also made an honorary Canon of Newcastle Cathedral. He retired from his priestly duties in 1995. He wrote a number of books over the course of his life covering a broad range of spiritual perspectives, including magic and the Qabalah.
ISBN: 978-1-908011-11-4

226 pages

cover photo by Rebsie Fairholm

perfect-bound paperback: 229mm x 152mm

black and white text

published 18th October 2011