---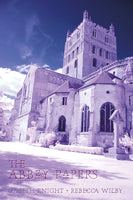 For a period of ninety days in 1993, Gareth Knight received a sequence of communications which seemed to come from three inner plane communicators who had worked regularly with Dion Fortune for much of her life. Forming a series of teachings and practical meditations which later became important knowledge papers issued to the Gareth Knight Group, the scripts construct an elaborate and multi-faceted magical image of an "Inner Abbey" which serves as a focal point for a wide variety of magical purposes and the evolution of consciousness. As well as providing vivid magical forms and pathworkings within the structure of the abbey, the papers discuss at length the development and use of such magical images and how to establish the magical vortex which empowers them.
Three years later, while working with the Inner Abbey papers, Knight's daughter Rebecca received a further series of communications which augment the original material and add a practical example of its use, culminating in the Chapel of Remembrance ritual, a magical vortex focused on spiritual resolution for war victims.
Now published together for the first time, the scripts provide a tried and trusted construct for personal magical work along with a fair amount of practical advice on occult and mystical techniques. It is open to the reader to follow up on this to find their own way into the Inner Abbey and come to a personal judgement of its experiential validity.
Gareth Knight is one of the world's foremost authorities on ritual magic, the Western Mystery Tradition and Qabalistic symbolism. He trained in Dion Fortune's Society of the Inner Light, and has spent a lifetime rediscovering and teaching the principles of magic as a spiritual discipline and method of self-realisation. He has written around fifty books covering topics as diverse as Qabalah, history of magic, Arthurian legend, Rosicrucianism, Tarot, Faery, the Inklings (Tolkien, C.S.Lewis et al) and the Feminine Mysteries, as well as several practical books on ritual magic. The Gareth Knight Group, a magical fraternity which he founded in 1973, is now run by his daughter Rebsie. He has lectured worldwide and contributed extensively to Inner Light, the journal of the Society of the Inner Light, and Lyra, the Gareth Knight Group journal.
Rebecca Wilby (Rebsie Fairholm) trained in the Gareth Knight Group and became the group's leader in 2013. She has written a play and a novel, both published by Skylight Press. She is also a musician, photographer and cycling nut.
ISBN: 978-1-908011-44-2

240 pages

cover photography by Rebsie Fairholm

perfect-bound paperback: 229mm x 152mm

black and white text, a few diagrams

published 31st October 2011