---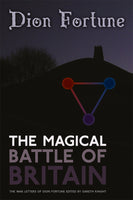 Immediately following Britain's declaration of war in 1939, Dion Fortune began a series of regular letters to members of her magical order, the Fraternity of the Inner Light, who were unable to hold meetings due to wartime travel restrictions. With enemy planes rumbling overhead, she organised a series of visualisations to formulate "seed ideas in the group mind of the race", archetypal visions to invoke angelic protection and uphold British morale under fire. "The war has to be fought and won on the physical plane," she wrote, "before physical manifestation can be given to the archetypal ideals. What was sown will grow and bear seed." As the war developed, this was consolidated with further work for the renewal of national and international accord. For the first time the Fraternity's doors were opened to anyone who wanted to join in and learn the previously secret methods of esoteric mind-working. With unswerving optimism she guided her fraternity through the dark days of the London Blitz, continuing her weekly letters even when the bombs came through her own roof.
With an introduction and commentary by Gareth Knight.
"A compelling portrait of an adept practising the magic of the light for the sake of the nation. – Alan Richardson
Dion Fortune was born Violet Mary Firth in Llandudno, North Wales on 6th December 1890, the daughter of parents with an active interest in the Christian Science and Garden City movements and the running of hydro-therapeutic establishments. Her interest in occultism was sparked in 1916 when, as a psychotherapist, she came across the startling work of Dr. Theodore Moriarty, who became her first esoteric teacher and inspired her series of short stories The Secrets of Dr Taverner. Once having embarked upon the occult path she cast her net wide and became a member both of the Theosophical Society and of the Alpha et Omega Temple of the former Hermetic Order of the Golden Dawn, but becoming discontented with the performance of existing organisations she set about founding her own esoteric group. Working in trance mediumship Dion Fortune made contacts with certain inner plane adepts, or Masters, whose influence on the Western Esoteric Tradition is still vital to this day. She wrote several esoteric novels to illustrate the possible practical application of the content of her textbooks and the articles in her house journal, the Inner Light Magazine. She also pioneered the popular exposition of the Qabalah as a key to the Western Mystery Tradition with her book The Mystical Qabalah, which is still one of the best texts available on the subject.
The Society of the Inner Light continued to operate in much the same way for some years after Dion Fortune's death, largely under the inspiration of the remarkable mediumship of Margaret Lumley Brown. It continues today as an initiatory school with much the same principles as those upon which it was originally founded.
ISBN: 978-1-908011-45-9

184 pages

cover photo by Matt Baldwin-Ives

perfect-bound paperback: 229mm x 152mm

black and white text

published 28th February 2012