---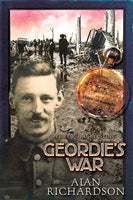 Foreword by Sting.
"This is the story of one man who served throughout the Great War, at the very front of the Fronts in the most brutal battles in history, and achieved that most astonishing feat of all – he survived. His name was George Matthew Richardson. He won the Military Medal and Bar and was nominated for the Distinguished Conduct Medal, yet was completely forgotten by his country, his clan, his hometown and – almost – his own family."
Thus begins Geordie's War, a new intertextual memoir from Alan Richardson, biographer of Dion Fortune and Aleister Crowley and author of On Winsley Hill and The Fat Git. Full of the wonderful wit and charm we've come to expect from this author, a lingering memory that starts with a grandfather's watch commences a journey to the Western Front to offer what Richardson terms "A Plain Man's Guide to the Great War." A must for Geordies everywhere and for anyone whose family has been touched by the Great War, and with a foreword by Sting, Geordie's War scintillates with over-the-top historical, cultural and regional resonances that will leave the reader longing for more.
Alan Richardson has been writing books on magic for longer than many of his readers have been alive. He has done biographies of such occult luminaries as Dion Fortune, Aleister Crowley, Christine Hartley and William G. Gray. He is also an expert on Earth Mysteries, Mythology, Paganism, Celtic lore, Ancient Egypt and Newcastle United Football Club. He does not belong to any occult group or society, does not take pupils, and (until his retirement) insisted on holding down a full-time job in the real world like any other mortal. That, after all, is part and parcel of the real magical path. He is married with four daughters, and lives the life of a Happy Hermit in the south-west of England.
ISBN: 978-1-908011-74-9

176 pages

perfect-bound paperback: 229mm x 152mm

black and white text, with photographs

published 11th November 2013