---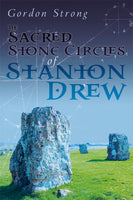 The village of Stanton Drew in north Somerset is host to a remarkable group of ancient monuments which together comprise the third largest collection of standing stones in England. The Great Circle, the largest of its three stone circles, encloses an area of 2000 square metres, exceeding the dimensions of Stonehenge. It was once approached by an avenue of standing stones, now lost. A smaller Southwest circle is aligned to The Quoit and The Cove nearby. Recent archaeology has revealed evidence of a substantial woodhenge at Stanton Drew, underlining its importance as a major ritual centre of the Neolithic age.
Gordon Strong, author of Stanton Drew and its Ancient Stone Circles and a regular lecturer on the subject, has spent many years exploring this fascinating site on multiple levels. In this book he presents the available archaeological detail along with local folklore and the testimonies of various commentators, from 18th century antiquarians to modern dowsing surveys, discussing ritual, mediumship, earth energies and mythology. He also gives his own observations and insights gleaned from his "long love-affair" with the site, interpreted through the Western esoteric tradition and British Mysteries. Most importantly, he offers the visitor some clues for making their own inner connection to this unique monument which still vibrates with ancient magic.
Born in the beautiful county of Somerset, Gordon Strong is an author, teacher, musician, poet and Tarot reader. In his writings he delights in aspects of myth, philosophy, esoteric history and various mystery traditions and sacred earth sites. He is also an avid speaker, appearing often in both the UK and USA to address a variety of topics. He appeared in Sean Martin's 2010 documentary Druid's Grove, which features Stanton Drew as a key druid location.
ISBN: 978-1-908011-58-9

100 pages

cover photo of Stanton Drew by Rebsie Fairholm

perfect-bound paperback: 229mm x 152mm

black and white text with photographs and illustrations

published 21st September 2012