---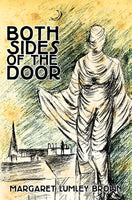 A re-issue of a remarkable little novella published in 1918, which Sir Arthur Conan Doyle praised as "a unique experience".
It comprises a fictionalised account of a psychic upheaval the young Margaret went through in 1913 while living in a disturbed house in Bayswater, London, with her sister. A casual experiment with table-turning triggered an intense and terrifying haunting, beginning with odd patches of shadow and light and soon developing into a full blown poltergeist manifestation – household items vanishing and reappearing in odd places, writing appearing on window blinds, and malevolent presences who began to materialise in various disturbing forms. Margaret Lumley Brown went on to become a significant figure in the Western Mysteries revival, and her remarkable mediumship gift was sparked by the experiences described in Both Sides of the Door. It stands as a remarkable memoir of a terrifying event.
This re-issue includes an Introduction by Gareth Knight and an essay by Rebecca Wilby explaining the locations and historical background to the story.
Margaret Lumley Brown was born in 1886 at the rectory in Long Stratton, Norfolk, where her father Henry Brown was vicar. She had one sister, Isobel Kirkwood Brown, who became her lifelong companion, and in 1912 Margaret and Isobel moved into a viciously haunted house in London behind the Edgware Road where the events of Both Sides of the Door took place. A few years later Margaret published the novella and a book of poetry, both originally under the pen-name of Irene Hay.
Although she made some attempt to develop an obviously natural psychic talent, her gift remained latent for much of her life, reaching its sudden peak in 1946 when she was nearly 60. She is now best known as resident trance medium at the Society of the Inner Light, where she took over the role of arch-pythoness after Dion Fortune's death in 1946. She fulfilled this role for most of the rest of her life, and died in 1975.
ISBN: 978-1-908011-37-4

112 pages

cover drawing by Margaret Lumley Brown

perfect-bound paperback: 203mm x 131mm

black and white text, some maps and illustrations

published 18th August 2011