---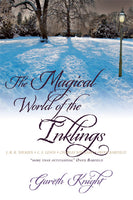 Foreword by Owen Barfield.
The works of J. R. R. Tolkien, C. S. Lewis, Charles Williams and Owen Barfield have had a profound impact on the contemporary world. Together they were The Inklings, a small literary group of friends who set out to explore the 'mythopoeic' or myth-making element in imaginative fiction. The Magical World of the Inklings reveals how each of these writers created a 'magical world' which initiates the reader into hidden and powerful realms of the creative imagination.
Gareth Knight is well established as an authority on magical and mystical symbolism and the esoteric. This second edition of The Magical World of the Inklings has been considerably revised and expanded.
"Because of the combination of information, understanding and insight on which it is founded, The Magical World of the Inklings is more than outstanding. It is not in the same league with anything else I have come across." — Owen Barfield
"It is only recently that the full play of Lewis's neo-Platonism is reaching a wider public. Nobody has more revealingly shown the occultic and mythical character of this world-view, and its influence on Lewis's fiction, than did Gareth Knight in his superb book The Magical World of the Inklings." — Dr Andrew Walker, Director of the Centre for Theology and Culture, King's College London; founder and former director of the C. S. Lewis Centre
Gareth Knight is one of the world's foremost authorities on ritual magic, the Western Mystery Tradition and Qabalistic symbolism. He trained in Dion Fortune's Society of the Inner Light, and has spent a lifetime rediscovering and teaching the principles of magic as a spiritual discipline and method of self-realisation. He has written around fifty books covering topics as diverse as Qabalah, history of magic, Arthurian legend, Rosicrucianism, Tarot, Faery, the Inklings (Tolkien, C.S.Lewis et al) and the Feminine Mysteries, as well as several practical books on ritual magic. The Gareth Knight Group, a magical fraternity which he founded in 1973, is now run by his daughter Rebsie. He has lectured worldwide and contributed extensively to Inner Light, the journal of the Society of the Inner Light, and Lyra, the Gareth Knight Group journal.
ISBN: 978-1-908011-01-5

304 pages

cover photo by Rebsie Fairholm

perfect-bound paperback: 229mm x 152mm

black and white text

published 20th October 2010