---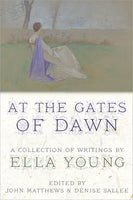 In early Irish society there existed an honoured group of people called the "Filid." They preserved the native stories and they were learned in the magical arts. It is within this ancient tradition that Ella Young (1867-1956) lived her unique and creative life. In the late 1800s Ella began to gather the old tales that had been handed down from family to family for centuries. She lived among the rural folk in the West of Ireland and in the hills south of Dublin. As part of her devotion to Irish culture she learned Gaelic and, as a major contributor to the Celtic Revival, she taught classes in the language and the myths.
Ella's spirituality reached deep into the land and into the heart of ancient Ireland. Others have called her a seeress, a druidess, or a witch – the magical name she gave herself was "Airmid" – the goddess of healing who drew her powers from the fertile green earth. She knew first-hand about the faery folk of Ireland – she heard their music and listened to their stories.
"There is a spell upon her prose, a real enchantment, that echoes through the mind like remembered music…to read the prose books of Ella Young…is to move in a world of epic proportion, heroic deed and heroic character, set against a background of warm earth, where even the gods delight in the small intimacy of blossom and flower…These tales are told with great conviction, as if they were rooted in the experience of the storyteller." — Frances Clarke Sayers
Edited by John Matthews and Denise Sallee.
Ella Young (1867-1956) was born in Fenagh, Co. Antrim and grew up in Dublin. A close friend of AE, Maud Gonne and W.B. Yeats, she began to make a name for herself with her poetry and her evocative rendering of Irish folktales, which she brought to life with her sparkling narrative gift and her extraordinary ability to engage with the realm of Faery. She was also politically active and directly engaged in the Irish Republican movement in the early 1900s. In 1925 she emigrated to the USA where she spent the rest of her life lecturing on Irish Myth and Lore at the University of California (renowned for appearing at lectures clad in druid robes).
ISBN: 978-1-908011-16-9

220 pages

cover painting: Ella Young Seated in a Garden, by Maud Lloyd

perfect-bound paperback: 229mm x 152mm

black and white text, some photographs

published 21st April 2011