---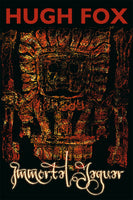 Immortal Jaguar is Hugh Fox's account of his experiences with the inner worlds and ancient powers unleashed by his use of traditional South American spiritual hallucinogenics. After consuming psychoactive plants in Peru he is gripped by visionary experiences and finds a dazzling magical world of Immortals opening up, a whirl of ancient knowledge pouring through his consciousness. On his return to academic life in the US he finds that having a shamanic gift which he is unable to switch off is something of a dangerous liability.
Part memoir, part archaeology, this fusion of visions and ideas into fictional narrative is among the most excitingly readable presentations of the spiritual underworld of the Andes and its expression through sacred hallucinogens. The vision extends outward across the ancient world through language and legend, all leading to a voyage to the house of the Sun-King – Tiawanaku in Bolivia. Fox, an authority on the Pre-Columbian Americas, and a true visionary to boot, makes a compelling case for the connection of myths and cultures around the world in deepest antiquity.
"Hugh Fox has long been a legend in the annals of contemporary American poetry, a poet who is unafraid to explore the deeper fodder of the human psyche .... there are no barriers here for Fox is a shaman who walks through walls, ignoring all social rules and regulations." — B.L. Kennedy, Rattlesnake Review
Hugh Fox was born in Chicago in 1932 and was raised by a Jewish grandmother who hid her Jewishness from him; he was raised as a fanatic Irish Catholic. It was only much later through his mother's deathbed confession to a nurse that he learned that his grandmother had been a Jew – which inspired him to convert to Judaism.
Sadly Hugh died in 2011 but his lifetime's accomplishments were extraordinary. He was a co-founder of the Pushcart Prize for Literature (alongside Anaïs Nin and others), a champion of small-press publishing and creator of the avant-garde literary magazine Ghost Dance. He was also a well-travelled authority on Latin American archaeology and spent many years living in Brazil. He had a PhD in American Literature from the University of Illinois, was a professor at Michigan State University for more than three decades, and author of some 80 published books ranging through literary fiction to experimental poetry, archaeology, memoirs, reviews and literary criticism.
ISBN: 978-1-908011-09-1

172 pages

perfect-bound paperback: 229mm x 152mm

black and white text, illustrations by Dr Maria B. Costa Fox

published 7th December 2010