---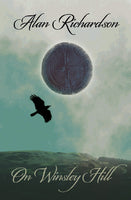 On Winsley Hill is set in a very real location, a plateau near Bath. Within the chronicles of old light ever stirring on the hill is the story of Rosie Chant, a young farmworker who, aged 17 in 1908, falls in love with a visiting American folklorist and archaeologist called Edward Grahl, triggering a fierce soul love which entangles her through nine decades.
Grahl recognises Rosie's unique otherworldly talents. She is a visionary and can pick up impressions from objects and places. As part of his research for a book he is writing, he uses her to tell him about the era of standing stones, long barrows, and sacred wells. She doesn't complain when he uses her in other ways, and through Grahl she gets to mix society life with the darker side of her gift, with devastating consequences.
"Alan Richardson needs no introduction, as the biographer of various major figures on the occult scene, who also has a reputation as a highly amusing, well informed and down to earth speaker. His specialist knowledge is brilliantly exploited in this vivid evocation of the west country world of 1908 in the moving story of a psychically gifted young girl exploited and abused by an academic researcher. … Highly recommended, and I look forward to more of the same." — Gareth Knight
Alan Richardson has been writing books on magic for longer than many of his readers have been alive. He has done biographies of such occult luminaries as Dion Fortune, Aleister Crowley, Christine Hartley and William G. Gray. He is also an expert on Earth Mysteries, Mythology, Paganism, Celtic lore, Ancient Egypt and Newcastle United Football Club. He does not belong to any occult group or society, does not take pupils, and (until his retirement) insisted on holding down a full-time job in the real world like any other mortal. That, after all, is part and parcel of the real magical path. He is married with four daughters, and lives the life of a Happy Hermit in the south-west of England.
ISBN: 978-1-908011-00-8

116 pages

cover photography by Rebsie Fairholm

perfect-bound paperback: 229mm x 152mm

black and white text

published 10th October 2010