---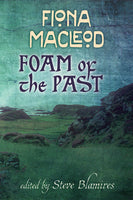 Edited by Steve Blamires.
Fiona Macleod was clearly a gentlelady of breeding and intellect. She could be trusted. She was almost 'one of us' – but not quite. It was this slight difference that allowed her to deal with dark and frightening characters and subjects in a way that gave them the glamour of the Celtic Otherworld in an intriguing and believable manner. She was not threatening or dangerous in herself and she opened up a whole new world of language, ancient songs, poems and proverbs that had never before been presented to the English-speaking peoples south of the Scottish Highlands. Her subjects were taboo for other writers but she dealt with them in such a matter-of-fact way they came across as completely normal and routine. This somewhat disturbing treatment gave them an edge, an excitement, which was captured in her eloquence and strong use of dialogue.
Who better to present a new anthology of Fiona Macleod's writings than Steve Blamires, author of The Little Book of Great Enchantment, a wonderful biography of William Sharp, and The Chronicles of the Sidhe, a ground-breaking analysis of Fiona Macleod's entire oeuvre? Foam of the Past is the 'selected writings' of Sharp's channelled pseudonym, who became a darling of Victorian readers and one earnestly courted by the fin-de-siècle 'Celtic Twilight' movement. Both writers, whether flesh or spirit, can be said to be prolific and Blamires collates a unique selection that mines a rich seam of popular work as well as previously unpublished material. This collection, not to be missed, includes provocative dark tales, early church musings, mystical ecritures, reveries of nature, political polemics, and various delightful vignettes. A gleaming new jewel for Scottish literature and Gaelic culture.
Born in Ayr, Scotland, Steve Blamires is an authority on the writings of Fiona Macleod and William Sharp, and has written several books on Celtic and Faery magical lore. He founded the Celtic Research and Folklore Society in Scotland and was editor of its Seanchas journal. After moving to the Hudson Valley area in New York State he continued to advance the cause of Celtic peoples and their culture, and has led many tours to sacred sites in Europe and served as both presenter and tour-guide on National Geographic expedition ships. After studying some twelve years with Gareth Knight, Blamires has also become a distinguished writer and teacher in the Western Mystery Traditions, continuing the work of Dion Fortune, Bligh Bond and other 'Avalonians.'
ISBN: 978-1-908011-73-2

340 pages

perfect-bound paperback: 229mm x 152mm

black and white text, some photographs

published 30th April 2014