---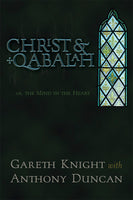 By the time we met, he was a newly ordained curate and I was scratching a living in the esoteric world, had written a book on the Qabalah and ran an occult magazine. We were thus inhabitants of two worlds that were never supposed to meet – at least by popular convention – or if they did, to be diametrically opposed to each other.
The catalyst for such a meeting of the minds was the provocative poetry of Anthony Duncan, hitherto little known to the world but privately praised by Kathleen Raine. Following on from the "Lord of the Dance" chapter in his autobiography, I Called it Magic, and various entries in his book of collected letters, Yours Very Truly, Gareth Knight muses on the esoteric resonances resulting from his unlikely friendship with the Reverend Anthony Duncan. Their intellectual sharing of ideas led to Duncan's The Christ, Psychotherapy and Magic and Knight's Experience of the Inner Worlds, which have become companion texts of esoteric Christianity often read and taught together. The pair had planned to co-author a book before Duncan's untimely passing in 2003 so Christ & Qabalah comes as a fulfilment of a long-held promise. The book will delight admirers of both authors and brings a fresh exploration of the differences and similarities between a cleric and an occultist. Knight has described the book as an "organic process, almost an initiation, that has left me with a somewhat expanded consciousness." Readers are invited to share in the various machinations that sparked this dynamic relationship – one that keeps on giving.
Anthony Duncan (1930-2003), the son of a Scots father and an English mother, was schooled for accountancy but soon discovered a dislike for office work. He joined the army and served in Germany and the Far East until resigning his commission as a thirty-year-old captain in order to follow his spiritual calling. He entered Chichester Theological College and was ordained into the Anglican church, first serving as a curate and later as parish priest to five parishes in both Gloucestershire and Northumberland. During that time he was also made an honorary Canon of Newcastle Cathedral. He retired from his priestly duties in 1995. He wrote a number of books over the course of his life covering a broad range of spiritual perspectives, including magic and the Qabalah.
Gareth Knight is one of the world's foremost authorities on ritual magic, the Western Mystery Tradition and Qabalistic symbolism. He trained in Dion Fortune's Society of the Inner Light, and has spent a lifetime rediscovering and teaching the principles of magic as a spiritual discipline and method of self-realisation. He has written around fifty books covering topics as diverse as Qabalah, history of magic, Arthurian legend, Rosicrucianism, Tarot, Faery, the Inklings (Tolkien, C.S.Lewis et al) and the Feminine Mysteries, as well as several practical books on ritual magic. The Gareth Knight Group, a magical fraternity which he founded in 1973, is now run by his daughter Rebsie. He has lectured worldwide and contributed extensively to Inner Light, the journal of the Society of the Inner Light, and Lyra, the Gareth Knight Group journal.
ISBN: 978-1-908011-68-8

222 pages

cover photograph by Rebsie Fairholm

page size 229mm x 152mm

black and white text with photographs

published 31st October 2013