---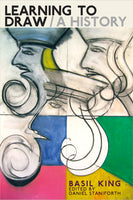 From London's East End to Black Mountain College to the New York Art scene, Basil King can people a canvas like no other. Learning to Draw / A History is an evolving and transformative narrative sketch, alternately prose and poetry, that that serves to document a personal and yet collective history with a roving Artist's eye. Previously serialised in a number of small journals and zines, the work has met with some acclaim and Skylight Press is pleased to offer the first complete version in a new architectural alignment. Although from post-war Britain, King's literary lineage harkens back to the projective verse style of Pound and Williams, sweetened through his working associations with the likes of Blackburn, Ginsberg and Baraka. The weaving of subjects in this work is not unlike the purposeful mixing of colours on an artist's palette, which other notable poets have also been quick to praise:
"The poems, rather than acting as an extended narrative (which is what I'd at first assumed they would do) interlace, so that the structure is like an evolving web. What is at stake here is a history, but history being a fluid thing, is never going to appear the same no matter how often the survivors tell their tales. With each new piece of information the whole is altered: not just by addition, but by complication." – Laurie Duggan
"Essential symmetry of experience which has gone against both the metronome and arrhythmia and beyond the ornamentation of inessentials in so much present writing. It helps to have had one's hands covered with paint. Someone, after a long life, is standing at the door of some facet of wisdom." – Nathaniel Tarn
Born in London's East End, Basil King endured the Blitz before emigrating to the USA in 1947. By the tender age of 16 he had enrolled at the now famous Black Mountain College to study painting and writing amongst such luminaries as John Cage, Willem de Kooning, Robert Duncan, Franz Kline, Charles Olson, Robert Motherwell, Josef Albers, Robert Creeley, Ed Dorn, Robert Rauschenburg, and Peter Voulkos.  As with many of his teachers and peers, he settled in New York to the life of a painter and erstwhile publisher.
By the 1980s Basil King had become a stalwart of New York's underground art scene, painting portraits of famous artists and poets as well as unique representations of playing cards and trees. Following a trip back to his native England, and perhaps somewhat due to being  surrounded by wonderful writer friends and a lovely poet wife, Martha King, Basil began to write inexhaustibly. In each work the author attempts to synthesize both his artist and poet voices in new ways, often followed by a series of  readings accompanied by slides of paintings.
ISBN: 978-1-908011-30-5

270 pages

cover artwork by Basil King

perfect-bound paperback: 229mm x 152mm

black and white text

published 30th September 2011