---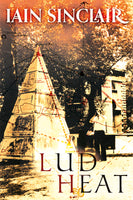 With an introduction by Allen Fisher, and afterword by Michael Moorcock. Illustrations and maps by Brian Catling.
Iain Sinclair's classic early text, Lud Heat, explores mysterious cartographic connections between the six Hawksmoor churches in London. In a unique fusion of prose and poetry, Sinclair invokes the mythic realm of King Lud, who according to legend was one of the founders of London, as well as the notion of psychic 'heat' as an enigmatic energy contained in many of its places. The book's many different voices, including the incantatory whispers of Blake and Pound, combine in an amalgamated shamanic sense that somehow works to transcend time. The transmogrifying intonations and rhythms slowly incorporate new signs, symbols and sigils into the poem that further work on the senses. This was the work that set the 'psychogeographical' tone for much of Sinclair's mature work, as well as inspiring novels like Hawksmoor and Gloriana from his peers Peter Ackroyd and Michael Moorcock, and Alan Moore's From Hell.
This new re-issue includes the illustrations and photographs from the original 1975 edition, which were absent from some later editions.
Iain Sinclair describes himself as a "British writer, documentarist, film maker, poet, flâneur, metropolitan prophet and urban shaman, keeper of lost cultures and futurologist."  He was born in Cardiff in 1943 but has lived much of his life in Hackney, East London. He has written considerably and famously about the capital city and for doing so is often linked to the term 'psychogeography.' His numerous novels include Downriver (which won both the James Tait Black Prize and the Encore Prize), Radon Daughters, Landor's Tower and Dining on Stones (shortlisted for the Ondaatje prize). He has also written a number of non-fiction books that explore the mythical underpinnings of the ancient city of London, including Lights Out for the Territory, London Orbital and Edge of the Orison. No stranger to television, Sinclair has also presented a number of films for BBC2's Late Show and been involved with a series of documentaries for Channel 4, including Asylum, which won the Montreal Festival short film prize.
ISBN: 978-1-908011-60-2

140 pages

cover photo by Iain Sinclair, design by Rebsie Fairholm

perfect-bound paperback: 229mm x 152mm

black and white text, with maps and diagrams

published 14th May 2012