---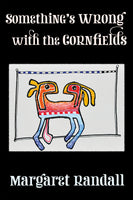 "I think of these as my 'impossible poems,' poems made from the battered language they are leaving us with, the torn and devastated language, the words twisted to mean the opposite of what they have always meant… turning language back on itself, as if going home…"
Margaret Randall's Something's Wrong with the Cornfields offers an array of sacred spaces, evocative landscapes, historical acts, and personal infusions. The poems augur around the ability to alternate between the universal and the obscure, between personal orbit and cultural aura. Some poems constrict like bloodward spirals…. and others unravel from their topical moorings. As with earlier volumes like Stones Witness, hers is a language in flux, where the willingness to yield alephs and symbols over time gives the poet a new scope to write beyond fixity.
'Better than a memoir, Margaret Randall's collection of unpublished poems, "Something's Wrong with the Cornfields" celebrates the lives she has observed, of workers and oppressed peoples, as well as poets and intellectuals.  The passion expressed in Meg Randall's long career as a poet, editor, and activist comes tumbling out of this huge collection, brimming over the edges of every poem.' – Diane Wakoski, author of The Diamond Dog
Margaret Randall is an award winning photographer, skilled essayist, and visionary poet. Revolution, whether inward or outward, is deeply embedded in both her spirit and her poetics.  For much of her life she was active on the physical fronts of social change, first in the student movement in Mexico, then Castro's Cuba, followed by the Sandinista National Liberation Front in Nicaragua. Not content with singular and restricted change, hers was a fight for a revolution within revolution, seeking the liberation of women within the masculinist socialist framework. But the convictions of this true revolutionary also led to many hardships, including the now famous 1984 debacle when she was served with deportation papers while trying to gain re-entry into the United States, a battle she finally won five years later. By 1990, Randall began to see some recognition for her stand when awarded the Hellman/Hammett grant for writers victimised by political repression. This was followed by the PEN New Mexico's Dorothy Doyle Lifetime Achievement Award for Writing and Human Rights Activism in 2004. Much of her activism is also celebrated in the Cinema Guild documentary, The Unapologetic Life of Margaret Randall.
ISBN: 978-1-908011-10-7

120 pages

cover art by Barbara Byers

perfect-bound paperback: 229mm x 152mm

black and white text, with petroglyphs by Barbara Byers

published 15th December 2010