---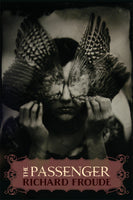 Native Bristolian now living in Colorado, Richard Froude is The Passenger, serving up a unique collection of writings that navigates both duelling states and hybrid forms. This poetic map charts the space between continents, where tectonic shifting plates transliterate a new amalgamated psychic zone between the root and newly adopted margins. Froude's new/old world is peopled with dislocated figures in some absurd geo-spiritual collage. Following from his recently published Fabric, Froude continues to explore peculiar immigrant pathology on a journey that likely has no end.
The Passenger is a two-part work, previously published as The Margaret Thatcher Trilogy (Catfish Press) and The History of Zero (Candle Aria Press). Of the former, Robb St. Lawrence wrote tellingly in Phoebe Literary Journal: "Froude's management of repeating themes, fugue-like in their harmonization, is powerful and suggestive. He extracts the certainties of voice from the declaratives he deploys and ultimately turns that certainty against itself. Froude's collection reads as the utterances of a speaker who dwells always in the midst of the words to which he is giving voice, head turning one way and then another, startled to catch them wavering as they float by, but utterly convinced of the seriousness of his operation."
"Richard Froude was grown from film stills. Above all he was a mirror. Much of his soil was gathered from conversation. Nothing is outside the screen. His house was built entirely of redirected rivers. This caused a book of between, a book of plywood and polymers, a book we are never finished reading." – Eric Baus
"The wild mind and language keeps coming. Richard Froude always surprises and The Passenger is no exception. Characters with terrific allegorical names like Design and Zero romp in the skies. ("My limbs are cirrus clouds"). America is a linguistic map of fleeting yet marvellous accounting. "Here, existence as repetition," we note as we converse within the Q&As and trajectories of futuristic twists and boggle. Kudos to this rich, hilarious mental acumen." – Anne Waldman
Richard Froude is an up-and-coming British poet-novelist, an erstwhile Bristolian now living and working in Colorado, USA. All emigrants have crossing stories to tell and Froude found his literary voice after moving to the US in 2002. While his formative years were spent in one of Britain's large estuary cities, his authorial shaping came on the Front Range of the Rocky Mountains, first at Naropa's Jack Kerouac School then at the University of Denver. He has since become a fellow of the University of Colorado School of Medicine and now provides palliative care to patients at UC hospital.
ISBN: 978-1-908011-38-1

104 pages

cover image by Kathryn Mayo Winter & Doug Winter

perfect-bound paperback: 229mm x 152mm

black and white text

published 12th December 2011