---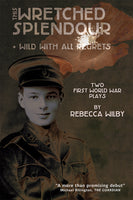 Two First World War plays.
Seven bored and demoralised survivors in a Flanders trench in 1916 find their lives transformed by the arrival of a new officer, David Cartwright. With his bright charisma and subversive approach to authority he inspires them to face their seemingly inevitable fate with courage, high-spirited stoicism and a sanguine sense of humour – the only defence against a bleak and mindless war.
This new edition of This Wretched Splendour includes a one-act play, Wild With All Regrets, an evocative biographical drama woven from the words and experiences of Wilfred Owen on the Western Front.
"The standard first world war play is still RC Sherriff's Journey's End. But Rebecca Wilby, a 29-year-old from Cheltenham, knocks it into a cocked hat with This Wretched Splendour. Where Sherriff's play is steeped in the public-school ethos, this one conveys the eccentric humanity and the tragedy of life at the front line." — Michael Billington, The Guardian
"an engaging, affectionate foray into an alien world." — Time Out
Rebecca Wilby (Rebsie Fairholm) trained in the Gareth Knight Group and became the group's leader in 2013. She has written a play and a novel, both published by Skylight Press. She is also a musician, photographer and cycling nut.
ISBN: 978-1-908011-93-0

108 pages

perfect-bound paperback: 229mm x 152mm

black and white text, cast photographs

first published 1st August 2010, new edition 31st August 2014