---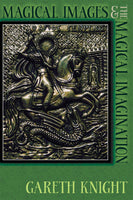 Third edition.
The knowledge and use of magical images was once a closely guarded secret of initiates and adepts in the Mystery Schools. Gareth Knight gives easy-to-follow classifications of the various kinds of magical image, along with instructions for their use as agents of self realisation and spiritual service.
Indispensible for beginners and advanced practitioners alike, this book presents the theory and techniques of creative visualisation and meditation. These practical teachings range from the circulation of force within the aura for the purpose of balancing the personality to the development of a full magical system of pathworking, enabling contact with inner sources of wisdom.
Now in its third edition, a new section is included on magical applications of the Tarot images, plus an extensive chapter on Qabalistic pathworking in the Western Mystery Tradition.
Gareth Knight is one of the world's foremost authorities on ritual magic, the Western Mystery Tradition and Qabalistic symbolism. He trained in Dion Fortune's Society of the Inner Light, and has spent a lifetime rediscovering and teaching the principles of magic as a spiritual discipline and method of self-realisation. He has written around fifty books covering topics as diverse as Qabalah, history of magic, Arthurian legend, Rosicrucianism, Tarot, Faery, the Inklings (Tolkien, C.S.Lewis et al) and the Feminine Mysteries, as well as several practical books on ritual magic. The Gareth Knight Group, a magical fraternity which he founded in 1973, is now run by his daughter Rebsie. He has lectured worldwide and contributed extensively to Inner Light, the journal of the Society of the Inner Light, and Lyra, the Gareth Knight Group journal.
ISBN: 978-1-908011-52-7

120 pages

cover photo by Matt Baldwin-Ives

perfect-bound paperback: 229mm x 152mm

black and white text with diagrams

published 3rd December 2012