---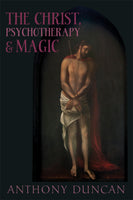 The Christ, Psychotherapy and Magic is a Christian priest's appreciation of occultism, with a particular focus on the Qabalah. Far from condemning occult thinking, he finds it has much common ground with the Christian perspective and contemporary developments in psychotherapy. Drawing on the works of Dion Fortune, Gareth Knight and others, he appraises the theology and assumptions of occultists and examines how Christian mysticism coheres with the Tree of Life. While his ideas may be challenging and thought-provoking for many occultists as well as for many Christians, his spectrum is broad and his criticisms carefully considered. He also provides a lucid overview of the Tree of Life which makes the book an incredibly valuable introduction to the Qabalah, especially as a guide for aspiring "Christian Qabalists".
Originally published in 1969, this book came about through Anthony Duncan's friendship with occultist Gareth Knight, and directly inspired Knight's major work Experience of the Inner Worlds.
"Now at least one clergyman has got the point and in this book urges his fellow Christians not to dismiss occultism either as a cranky fad or as 'a black art'." — The Guardian
Anthony Duncan (1930-2003), the son of a Scots father and an English mother, was schooled for accountancy but soon discovered a dislike for office work. He joined the army and served in Germany and the Far East until resigning his commission as a thirty-year-old captain in order to follow his spiritual calling. He entered Chichester Theological College and was ordained into the Anglican church, first serving as a curate and later as parish priest to five parishes in both Gloucestershire and Northumberland. During that time he was also made an honorary Canon of Newcastle Cathedral. He retired from his priestly duties in 1995. He wrote a number of books over the course of his life covering a broad range of spiritual perspectives, including magic and the Qabalah.
ISBN: 978-1-908011-51-0

200 pages

cover photo by Rebsie Fairholm

perfect-bound paperback: 229mm x 152mm

black and white text

published 5th February 2013