---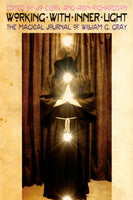 As the New Age seemed to explode into being from the late 1960s onward, everything spiritual had to be Eastern. Psychedelic artwork showed Glastonbury Tor overshadowed by the Maharishi Mahesh Yogi, or Stonehenge sending its energies up to Lord Krishna – imagery which Bill Gray summed up quite simply as "Balls." He was working hard at making sure that our weakened (or slumbering) Western Traditions would survive.
Two decades after Gray's death, a new manuscript came to light representing some of his vintage work on the inner and outer practicalities of ritual magic. On what turned out to be his last visit to Bill, Alan Richardson was given a ring binder containing what seemed to be an occasional Journal-cum-Magical-Diary for 1965. However it is far more than a journal; it is a detailed course in modern Qabalistic magic. Now published for the first time, this advanced but practical text will be of immense value to esoteric students and practitioners working within the Western Mysteries today.
Edited by Jo Clark and Alan Richardson.
William G. Gray was a legendary magician and author of many influential books on occult practice. He met both Dion Fortune and Aleister Crowley during his childhood, and later worked with many other well known practitioners of magic and witchcraft including Gareth Knight, R.J. Stewart, Marian Green, Doreen Valiente, Pat Crowther and Robert Cochrane, in whose memory The Rollright Ritual was written. Born in Harrow in 1913, he lived for most of his life in Cheltenham, Gloucestershire, where he ran a chiropody practice. Bill Gray devoted his entire life to his "esoteric interests", and by questioning every detail of the established assumptions, found out what worked and what didn't. His books on Qabalah and ritual magic set out a fresh pathway along which most others have followed, often without realising that he originated much of what is taken for granted in magic and paganism today. He died in 1992.
All royalties from the sale of this book, and any earnings of any kind accrued by the editors in relation to it, are paid to the charity Cancer and Leukaemia in Childhood (CLICSargent). www.clicsargent.org.uk
ISBN: 978-1-908011-14-5

208 pages

cover photo by Matt Baldwin-Ives

perfect-bound paperback: 229mm x 152mm

black and white text, some diagrams

published 31st May 2011