---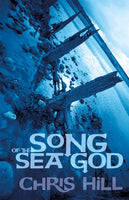 Along with the strange flotsam of the sea, the aptly named John Love drifts in on the grey tide to an island off the English coast. The stranger, both bedazzling and unnerving, effects an immediate messianic glow upon the bladder-wracked community of odds and sods, making disciples of the most unlikely characters.
Chris Hill's visionary and delightfully bizarre novel reads like the gospel for a neophyte religion spawning in the sea foam among strange goings-on. It examines how destiny is the result of the collective will, especially among tribal folk who forever yearn to conform to ancient cants and creeds.
Song of the Sea God comes from both the ancient incantations of history and mythology and the awkward cadences of the modern age. The plot is riddled with humour and pathos, which will delight fans of the contemporary British literary novel. With rich symbolism and delicious twists of irony, Hill takes the reader on a microcosmic wild ride in a story told by a mute that starts in a pub called The Vengeance. Along the way the reader is treated to a feast of psychotic musings that somehow manages to include miracles, Tip Rats, plastic ducks, the life of pebbles, and a Diary of Stools.
Chris Hill grew up on Walney Island just off the coast of Barrow-in-Furness, Cumbria, at the northern tip of Morecambe Bay. Now living in Gloucester, Hill is a 20-year veteran as a regional newspaper journalist and currently works as a PR officer for a children's charity, WellChild. Perhaps propitiously for a fiction writer, he served as a crime correspondent and was the news editor of the Gloucester Citizen during the time of the Fred and Rose West mass murder case. With his background as a reporter, news editor, main editor and communications correspondent, Hill has always had an eye to develop his writing craft for more creative purposes.
Some early success came when his short story, The Runner, won the coveted Bridport Prize in 2001. Song of the Sea God was shortlisted (under a previous title, The Longing) for the Daily Telegraph first novel prize and the Yeovil Prize for Literature. The theme of the novel reflects Hill's deep interest in the sociological and psychological aspects of religion.
ISBN: 978-1-908011-55-8

214 pages

cover photo by Phil Murray

perfect-bound paperback: 216mm x 140mm

black and white text

published 8th October 2012